12/22 – Ras Al Khaimah
Media Website
We have created a dedicated press website for Ras Al Khaimah with all the necessary information for the French market. It contains:
– Press kit
– Latest press releases
– Best articles
– Photo Gallery
– Contact us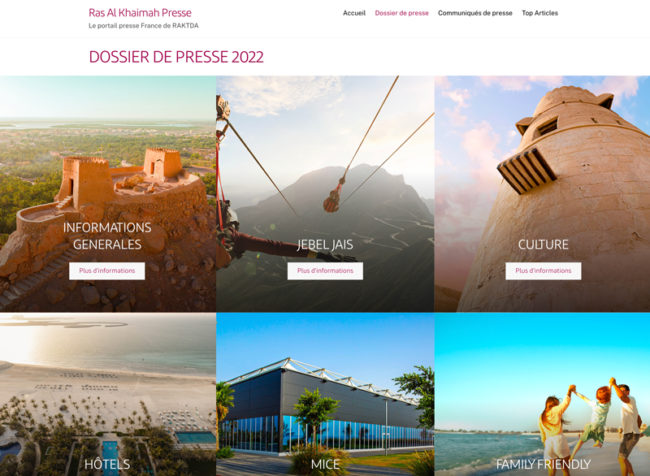 12/22 – Türkiye
Influencers Trips
This end of year is the occasion for the influencers to discover the Türkiye with Axium by Parker
What better way to discover Turkish fashion & Gastronomy than a press trip to Istanbul or on the wine route?
A magical moment for Danae, Ilona, Sarah & Sarah, Elodie Pulici & Victoria Pupier.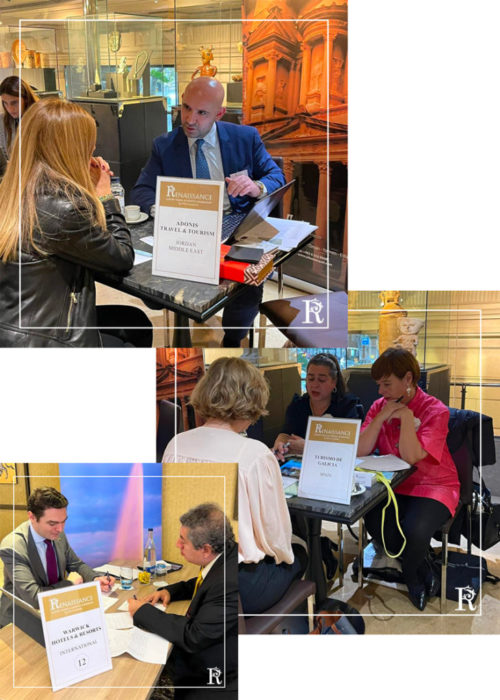 11/22 – Renaissance
Barcelona & Geneva
Last week we took over Spain & Switzerland.
Barcelona & Geneva workshops where a full success ! 


Great accomplishments for our exhibitors, buyers and trusted partners… A BIG THANK YOU to the team who is always hard working with passion.
11/22 – Türkiye
MICE Lunch in Paris
On November 25, in the presence of H.E. Ali Onaner, Ambassador of Turkey to France and Fatma Özsoy, Counsellor of Culture and Information at the Embassy of Turkey, a MICE event was organised on the Champs Elysées.
On this occasion, several MICE professionals were able to attend a presentation of the destination and of Turkish Airlines.
Turkey and Istanbul are, let's remember, one of the first destinations of business tourism in the world.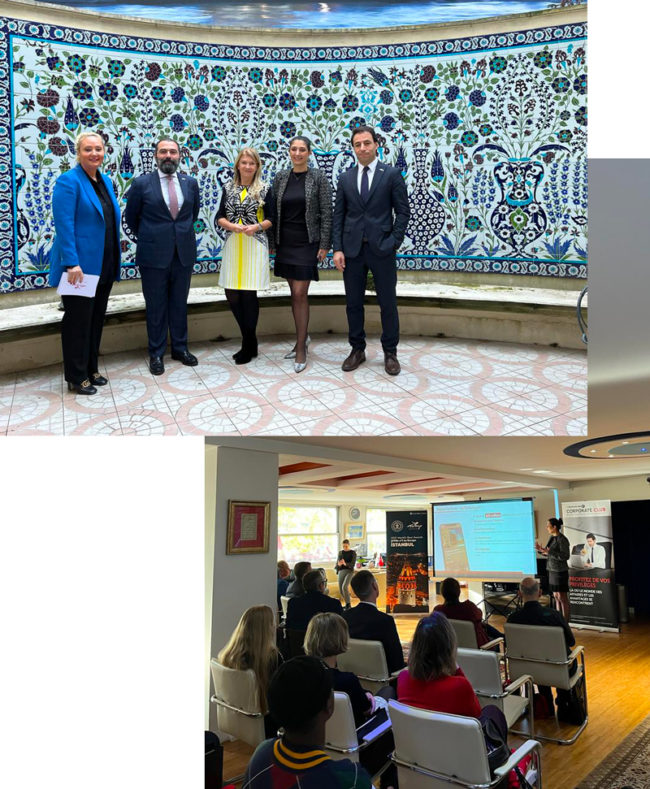 11/22 – Ras Al Khaimah
Media Event Paris
Ras Al Khaimah's first press event took place in Paris on the most beautiful rooftop of the Champs Elysées.
Twenty journalists and influencers were invited to a presentation of the destination and a gala dinner in the presence of Raki Phillips, CEO, and Gehan Sidky, Press Officer. 
A real success that promises great projects for 2023.
10/22 – ICC Jerusalem
Famtrip Jerusalem
A famtrip was organised on behalf of ICC Jerusalem. The French and Belgian MICE market professionals were able to discover the strengths of the Jerusalem Convention Centre and all the attractions of the city during 3 days.
10/22 – Ras Al Khaimah
Roadshow Ras Al Khaimah France
A stopover in France last month for Ras Al Khaimah Tourism Development Authority on the occasion of a roadshow passing through Paris, Lyon and Nice.
The representatives of the destination accompanied by their partners and Emirates were able to meet more than 70 tour operators and travel agents in the three cities.
It was in the prestigious surroundings of the Champs-Elysées, the Boscolo and the Negresco that the Emirate, located only 45 minutes from Dubai, was able to make a complete presentation of its potential attractiveness to the French market, followed by a dinner of exchanges between partners and professionals.
10/22 – Luxembourg Convention Bureau
Workshop MICE Luxembourg Amsterdam
A business events mission was organized this week in Amsterdam to promote Luxembourg as MICE destination destination to the Dutch market.


The venue met perfectly. the brief: Innovative, Green and modular.  The buyers were delighted to meet the representatives of the destination.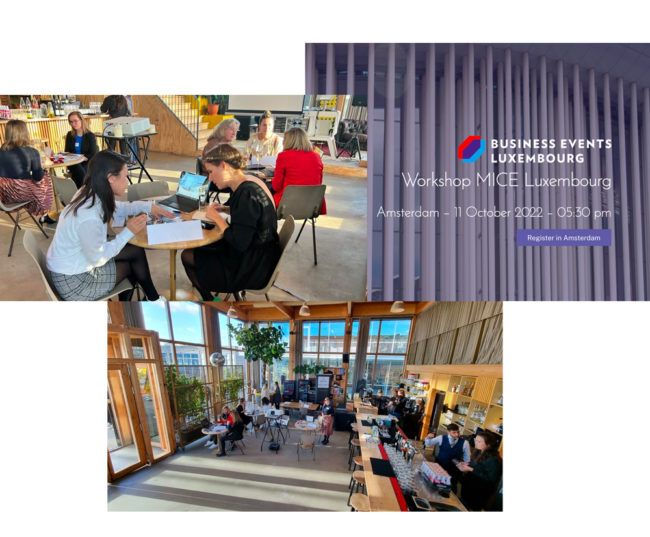 10/22 – Renaissance
Renaissance Paris & Milan
Third edition of Renaissance Workshops: 26 exhibitors and more than 260 appointments in each city 

Thank you to our loyal exhibitors and hope to see you next time, check the calendar ! 


Next stop: Emirates, Europe and USA !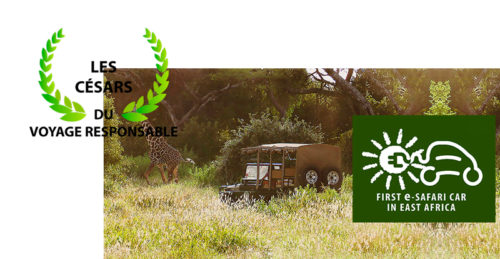 10/22 – Tanzania
Tanganyika nominated for responsible travel award
Tanganyika Expeditions continues to demonstrate its commitment to responsible and sustainable tourism
Vote for the Tanzanian tour operator below 
Self-sufficiency of the lodges in electrical energy
Electric cars
Tree planting
Rainwater harvesting
Sorting and treatment of waste
09/22 – Türkiye
Lunch presentation Mme Özsoy
Mme Fatma Özsoy has been appointed by the Turkish Ministry of Culture and Tourism as Deputy Counsellor for Culture and Information at the Turkish Embassy in France.
On this occasion, a lunch was organized at Fouquet's in the presence of the press and tourism professionals.
09/22 – Kerala Tourism
Workshops Paris & Amsterdam
Paris; 28th of September 2022 (M Social)
Amsterdam; 29th of September 2022 (W)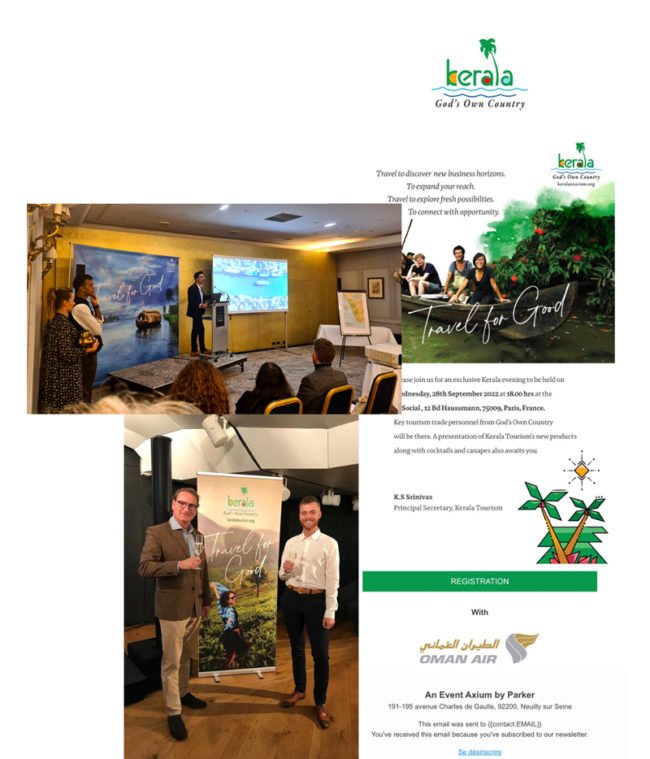 09/22 – Karnataka Tourism
Workshops Amsterdam & Brussels
Karnataka Tourism is back ! 
In order to promote the Indian state, Axium by Parker has been mandated to organize a series of roadshows in targeted markets.
·Amsterdam; 16th of September 2022 (The Dylan)
·Brussels; 19th of September 2022 (Amigo by Rocco Forte) 
09/22 – Ras Al Khaimah
FTI Events
Axium by Parker was present in Paris, Bordeaux and Toulouse to represent Ras Al Khaimah in their production presentation.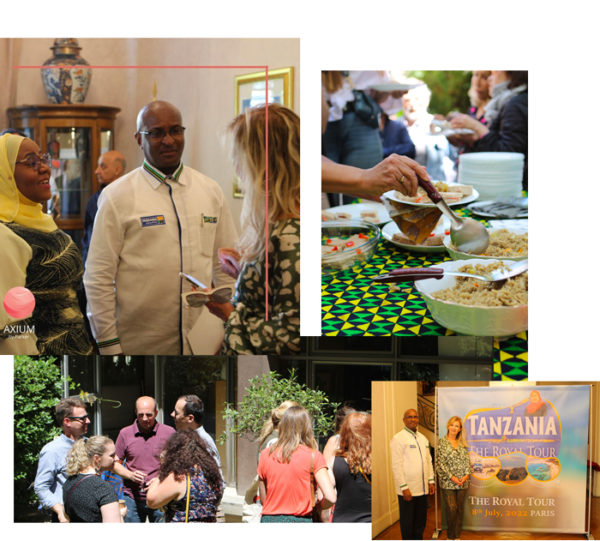 07/22 – Tanzania
Bush Lunch in Paris
The perfect opportunity for key players in the tourism sector to discover in an idyllic setting at the Tanzania Embassy in Paris, the 'Royal Tour' documentary made by Her Excellency Samia Suluhu Hassan, President of the Tanzania United Republic in collaboration with M. Peter Greenberg, highlighting Tanzania's history, culture, environment, food, music and hidden gems.


Colorful lunch full of specialities thanks to H.E.M. Samwel W. Shelukindo; Ambassador of Tanzania in France.

We grateful for the presence of Hon. Tabia Maulid Mwita; Minister of Information, Youth, Culture and Sports of the Revolutionary Government of Zanzibar.
06/22 – Turkiye
Cocktail "Un été en Turkiye"
Great Türkiye Summer cocktail party yesterday at the Cultural and Information Department of Türkiye Embassy in Paris.


In the presence of H.E. Ali Onaner, Ambassador of Türkiye in France, Özgür Semiz, Director of the Culture and Information Department near the Embassy of Türkiye, journalists, influencers and tour operators, we were told about forecast fam, media trips and the destination's latest news.


Chef Octave Kasakolu from
Les
Tantes
Jeanne
spoilted us with Türkiye specialties and delicacies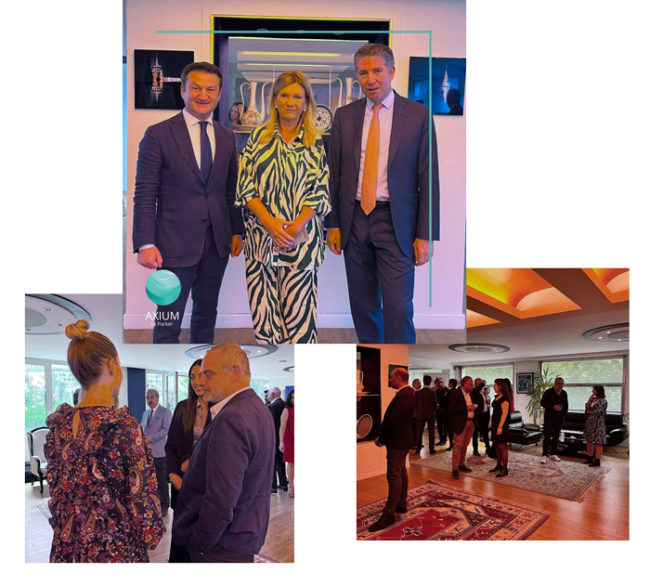 06/22 – Tanzania
Roadshow Tanzania
Axium was appointed to organize a roadshow in Europe. 4 events in 4 days. The team was involved in organization for 2 months.
Munich 13th June 2022 – The Charles Hotel
Praha 14th June 2022 – Mama Shelter
Vienna 15th June 2022 – Park Hyatt Vienna
Bratislava 16th June 2022 – Dom Michalska Brana
Final result: 133 appointments with our partners
Which represent in each city 5% of journalists and 95% of Leisure and MICE buyers
Our top priority was to succeed in quantity and quality events with new customers through a rigorous selection and organization for a well- paced workshop.
The choice of prestigious and hyper central places contributed to the success of the Roadshow
Next stop : Milan, Turin, Lyon and Geneva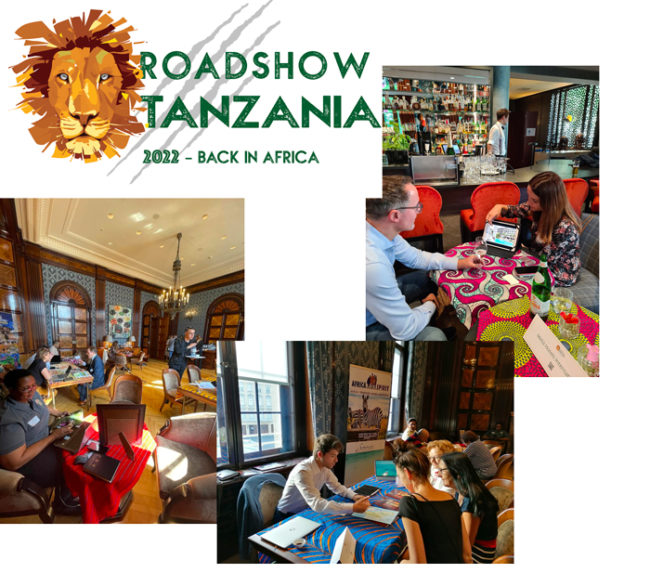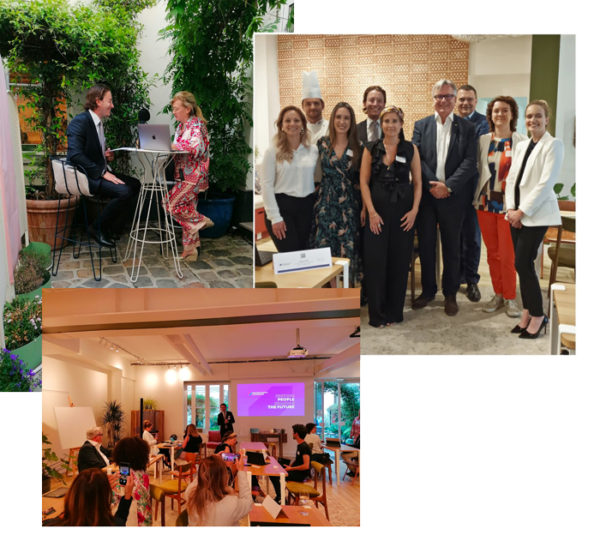 05/22 – Luxembourg Convention Bureau
Workshop MICE Luxembourg
Axium by Parker organized the MICE Luxembourg Workshop in Paris on May 17th.
On this occasion, officials, receptives, venues and hotels had the opportunity to meet the professionals of the event.
Podcasts were also recorded, a way to present the destination to those who could not make the trip.
Next destinations, Frankfurt and Amsterdam!
05/22 – Cercle
Cercle Festival
The Axium team is always pleased to join the Cercle family ! Thank you for an amazing night !

Let's stay positive and keep enjoying with our friends !
05/22 – Turkiye
Taste of Paris
This year, Tukiye was the official partner of Taste of Paris, a gigantic temporary restaurant installed in the nave of the Grand Palais.
Taste of Paris offers an exceptional moment of encounter between a public of enthusiasts and the great participating chefs, and the opportunity for gastronomes to taste the dishes of the best tables and this year for the first time Turkish dishes.
Axium by Parker had the opportunity to invite media and influencers for private cooking classes.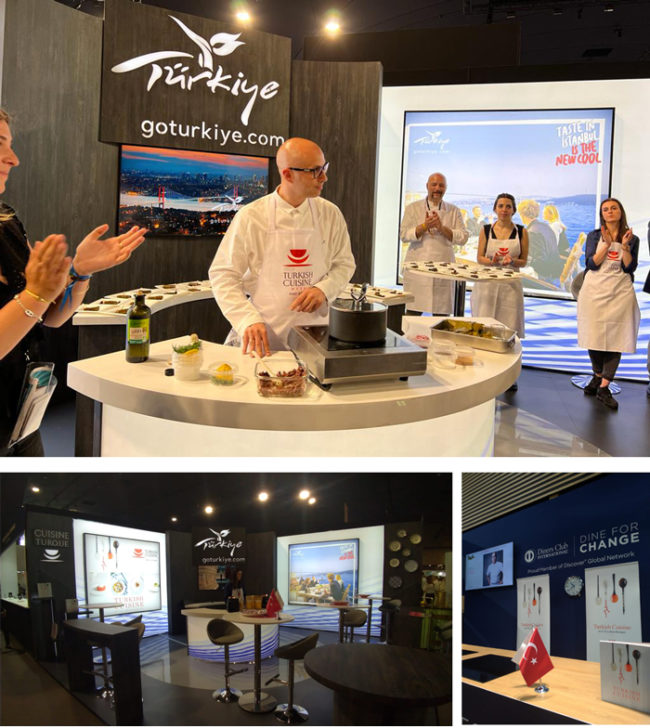 05/22 – Turkiye
Gastronomy Week Turkiye
Very chic Party at the Residence of H.E Ali Onaner, Ambassador of Türkiye in France.


After the celebration of Turkish Gastronomy with the chef Ali Ronay at
Taste
Of Paris
at the Grand Palais Ephémère.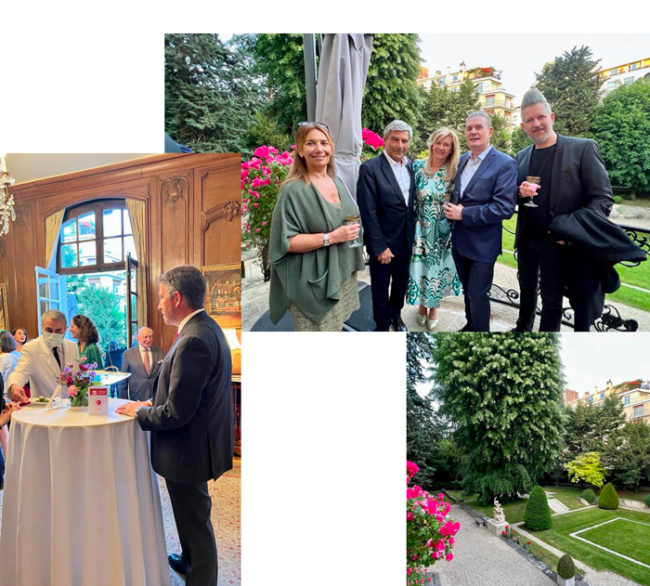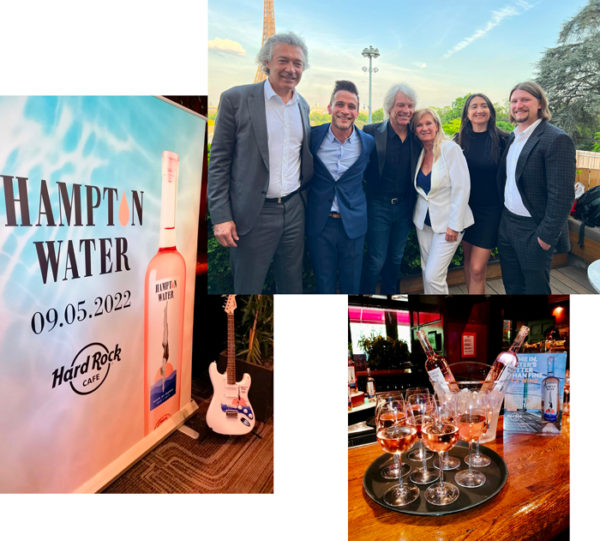 05/22 – Hard Rock Cafe
Tasting Hampton Rose
We Love Monday let's start in Hamptons' lifestyle
So proud to rock the day with Hard Rock Cafe European team deep dive into this amazing Pink Water aka Hampton Water Rosé with the presence of Gérard Bertrand, Jon Bon Jovi and Jesse Bongiovi.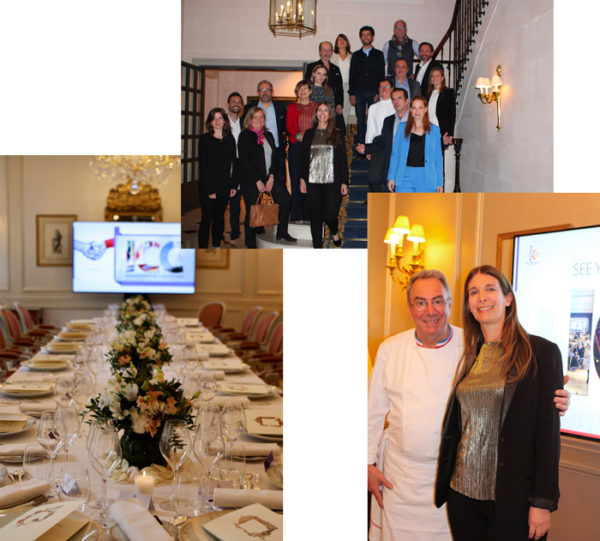 04/22 – ICC Jerusalem
VIP Diner Paris & Brussels
No event is too big for ICC Jerusalem, Israel's largest and prime Convention Center, located right on the entrance to Jerusalem.


Rakefet eliaz iluz VP of Marketing, Hila Miler, Sales Manager of the Jerusalem Convention Center were back in full swing to explain ICC Jerusalem latest innovations to French and Belgium PCO, an eventpro by Axium by Parker.


A big success thanks to our dear guests in Paris at
Hotel Le
Bristol
Paris
and Brussels at
Hotel Amigo, a Rocco Forte Hotel.
03/22 – Hard Rock Cafe
Slash Event
Launch of "4" the new album of Slash at Hard Rock Cafe Paris recorded in Nashville with producer David Cobb ft Myles Kennedy !
Axium by Parker invited journalists and influencers for a unique screening of a Guns N' Roses concert.

5 Slash autographed guitars have been won!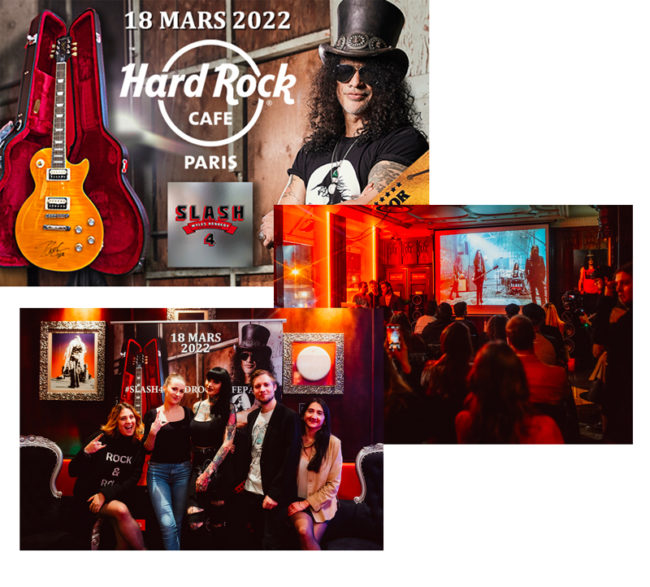 03/22 – Renaissance
Renaissance Paris
Second edition of Renaissance workshop: 28 exhibitors and 263 appointments!
With 64% of returning exhibitors, we can say that we rocked this event !

Thank you to our loyal exhibitors and hope to see you next time, check the calendar ! 


Next stop: Cologne 19th. Will you be there ?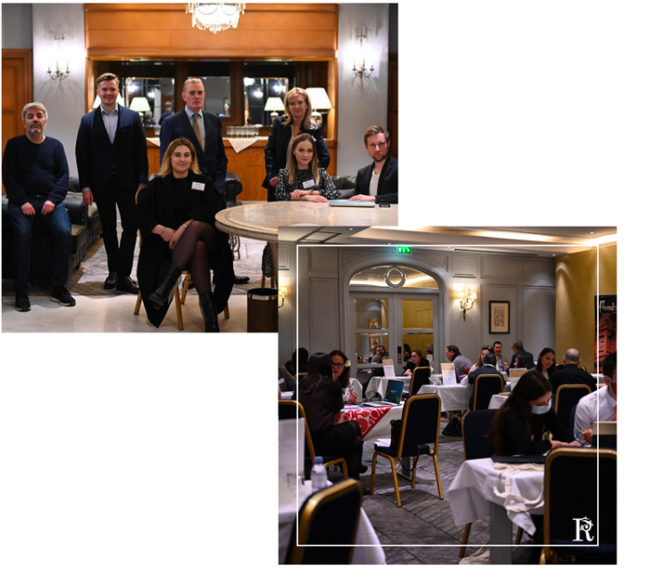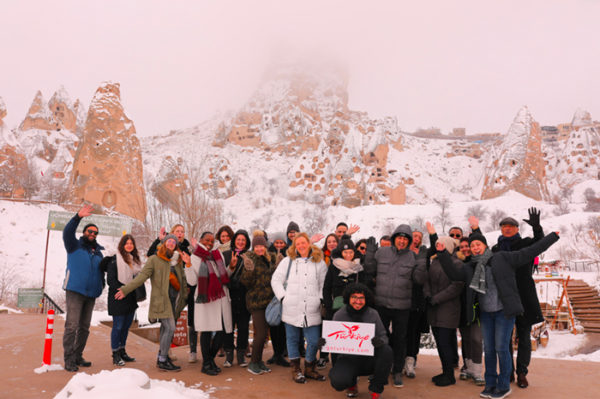 03/22 – Turkiye
Famtrip Cappadocia & Istanbul
Leading French tour operators visited Cappadocia, an increasingly popular tourist paradise in Turkey, as part of a five-day excursion program. While discovering the unique landscapes and history of the region, the 28 representatives of French tour operators praised this amazing destination.
At the invitation of the Turkish Tourist Board in Paris and the Turkish Tourism Promotion and Development Agency (TGA) and coordinated by Axium by Parker, the French tour operators were able to rediscover this destination before a major tourist programming period.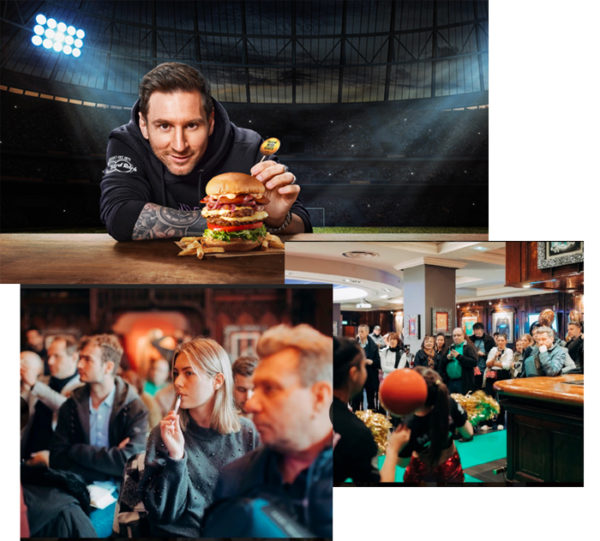 03/22 – Hard Rock Cafe
Press Conference Messi Burger
After signing Lionel Messi for 5 years, the American brand, which initially sold the "Diner" spirit internationally, unveiled, during a press conference, its new signature burger: the Messi Burger as well as a new collection of clothing for its "Live Greatness" communication campaign.
For the occasion Axium by Parker organized a press conference at noon gathering more than 40 media and 30 influencers during a dedicated happy hour event.
The beginning of a great year for the Hard Rock Cafe.
From Paris We wish you a positive New Year. Bigger Goals, Safer & Greener Planet for everyone.

We are confident that, even in challenging times, together we can make 2022 a Year of Successes and huge growth in all senses !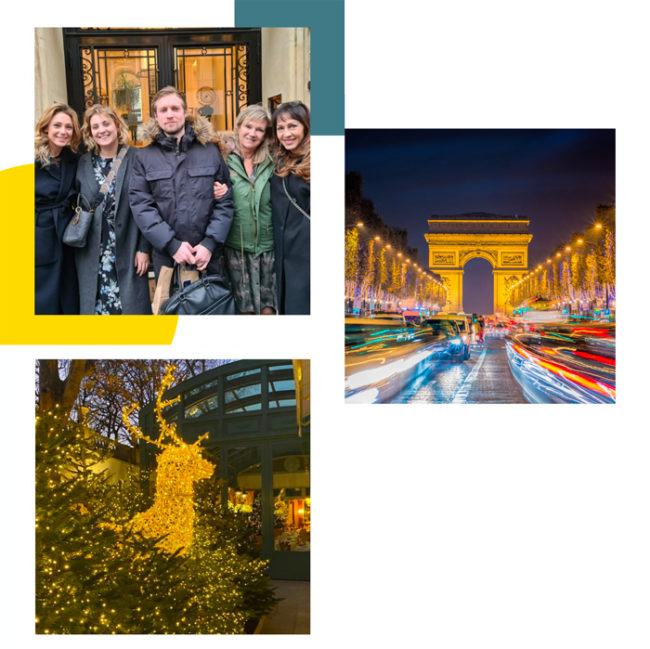 12/21 – Turkiye
ILTM Cannes
Well done!
ILTM
Cannes (International Luxury Travel Market) December 6th to 9th, the week was brilliant we loved reconnecting with top industry partners showcasing their luxury leisure travel experiences.
"Un Grand Merci "to the sharp organization which led us to develop new contacts and get together with our faithful partners from Turkiye with 
GoTürkiye.
Shout out to Christine Welter, director of
Hôtel Cavendish Cannes
 and
Villa Garbo Cannes
for welcoming us for memorable happy hours in your beautiful hotel.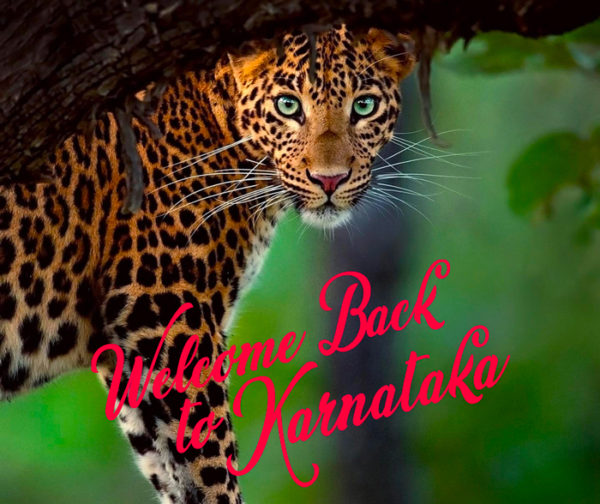 11/21 – Karnataka Tourism
Workshop Karnataka Birmingham & Manchester
Doing nothing was not an option  for Karnataka , India southern state , their Tourism Board members packed and hit the road again after WTM to Birmingham and Manchester to meet high end buyers and journalists . Thanks to their trust  we' ll keep on doing so over Europe by beginning 2022 , stay tuned
10/21 – Renaissance
Renaissance Events
To do , doing , done ! ✅ We did it and wrapped successfully  Renaissance Workshops in Paris and Milan. Luxury travel BtoB  events highlighting hotels , destinations and travel brands from all over the world , such a great opportunity to revitalize and be on the move again !
Facts :
Hosted buyers Leisure & Mice,
Media and Influencers
Number of Exhibitors: 27
Total Number Of Prescheduled One-to-One Meetings: 462
09/09/21 – Tanzania
Bush Cocktail Tanzania
The first event of the year took place in the gardens of the Tanzanian Ambassador's residence in Paris in order to (re)discover the Sublime Tanzania and its Paradise Zanzibar while enjoying the end of summer.
Our exhibitors Tanganyika Expeditions, Africa Spirit, FlightLink, Ethiopian Airlines and Melia took advantage of this event to meet travel agents, MICE, and journalists around a cocktail.
We recorded podcasts during the event.
A big thanks to H.E. Mr. Samwel W. Shelukindo, Ambassador of Tanzania in France, and to our partners
08/09/21 – C.I.D Deauville
Axium by Parker at the American Film Festival
Our experts Patricia & Maryline represented Axium by Parker at the Deauville American Film Festival  ! Thank you Carine Fouquier, it is always a pleasure to be welcomed at the C.I.D Deauville.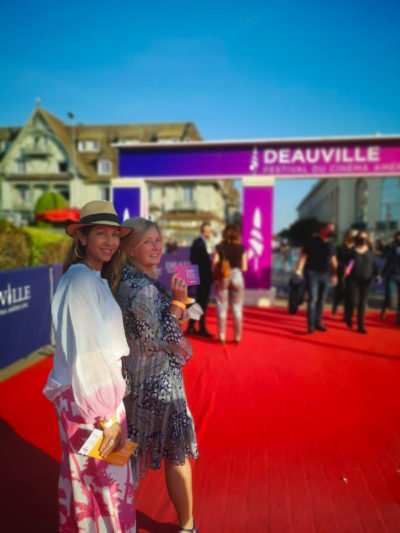 08/21 – Ras Al-Khaimah
Inspection meetings with Amira Chabbah
Ras Al Khaimah is the perfect getaway 
the Emirate has firmly established itself as one of the most authentic destinations in the Middle East. Just 45 minutes from the busy metropolis of Dubai, Ras Al Khaimah with Culture and Heritage sites offers an experience with the 3 elements : Jebel Jais Mountain, Pristine coastline, terracotta Deserts.
08/06/21 – Turkey
Axium by Parker on TFX Channel
Axium by Parker participated in the production of the show "Champions: Families of footballers" on the French TV channel TFX.
on the French television channel TFX. The program is about the lives of footballers' wives, including Sarah Dossevi in Denizli, Turkey, and her husband Matthieu Dossevi, who plays for the Denizlispor club.
23/03/21 – Zaragoza Congresos
Online Rountable Sustainable Zaragoza
Get to know the commitment and sustainable promise that Zaragoza offers us
Meet us the 23rd of March 11:00 am

It is not a trend but a fact that in the coming years the accomplishment of Sustainable Development Goals (SDGs) by the United Nations according to the Agenda 2030 is going to be essential in every event.
24/10/20 – Grand Hotel Tremezzo
The luxury of Lake Como for 5 journalists
Axium by Parker had the honor of organizing a press trip for 5 journalists to the prestigious Grand Hotel Tremezzo. The opportunity to visit Villa Sola Cabiato, the village of Bellagio and to learn the basics of Italian high gastronomy.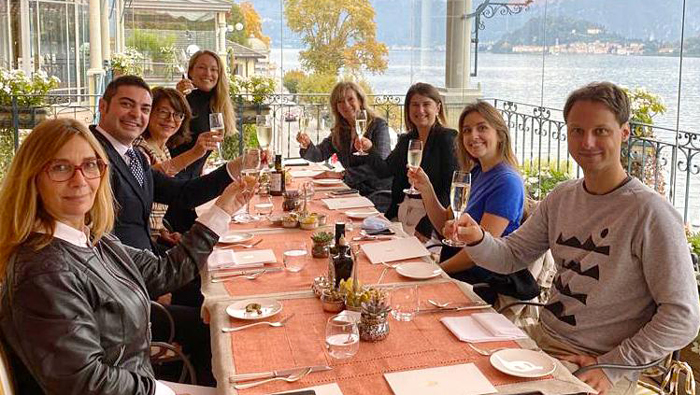 28/07/20 – Jerusalem
ICC Jerusalem introduces its virtual congress solutions
Think ICC Jerusalem, it's worth it!
ICC Jerusalem presented its brand-new virtual congress center during our round-table discussion. This solution is quite innovative and adapted to today's needs.
Don't hesitate to watch the replay of our meeting
Password: ICCJERUSALEM2020
08/07/20 – Regiondo
Regiondo brings digital technology and tourism together
Even with Covid-19, Regiondo has not loosen its creativity and innovation!

The European platform has just launched a whole new commercial site to promote French tourism and activities. Its collaboration with Marseille Experience centralizes the touristic offer of the city and facilitates data management.

Cédric Lopez, France and International Director, has also announced an agreement with the online travel agency Tiqets.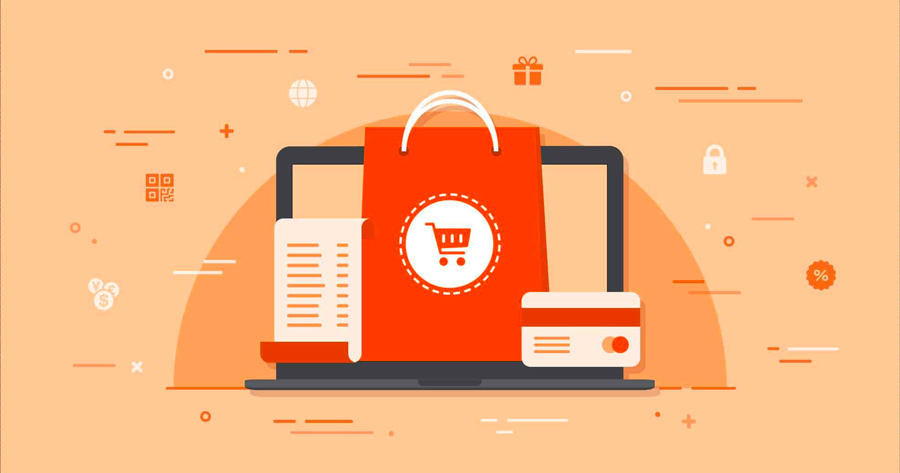 03/07/20 – Tanzania
Webinar Tanzania
Tanzania is ready to welcome you again! 
Thank you all for your participation at our Webinar Tanzania this Friday. 
We took this opportunity to present you this great country, but also the services offered by our partner Tanganyika Expeditions.
The company took all the necessary measures to ensure you a serene safari, so we hope to see soon in Tanzania!
Password: kaributanzania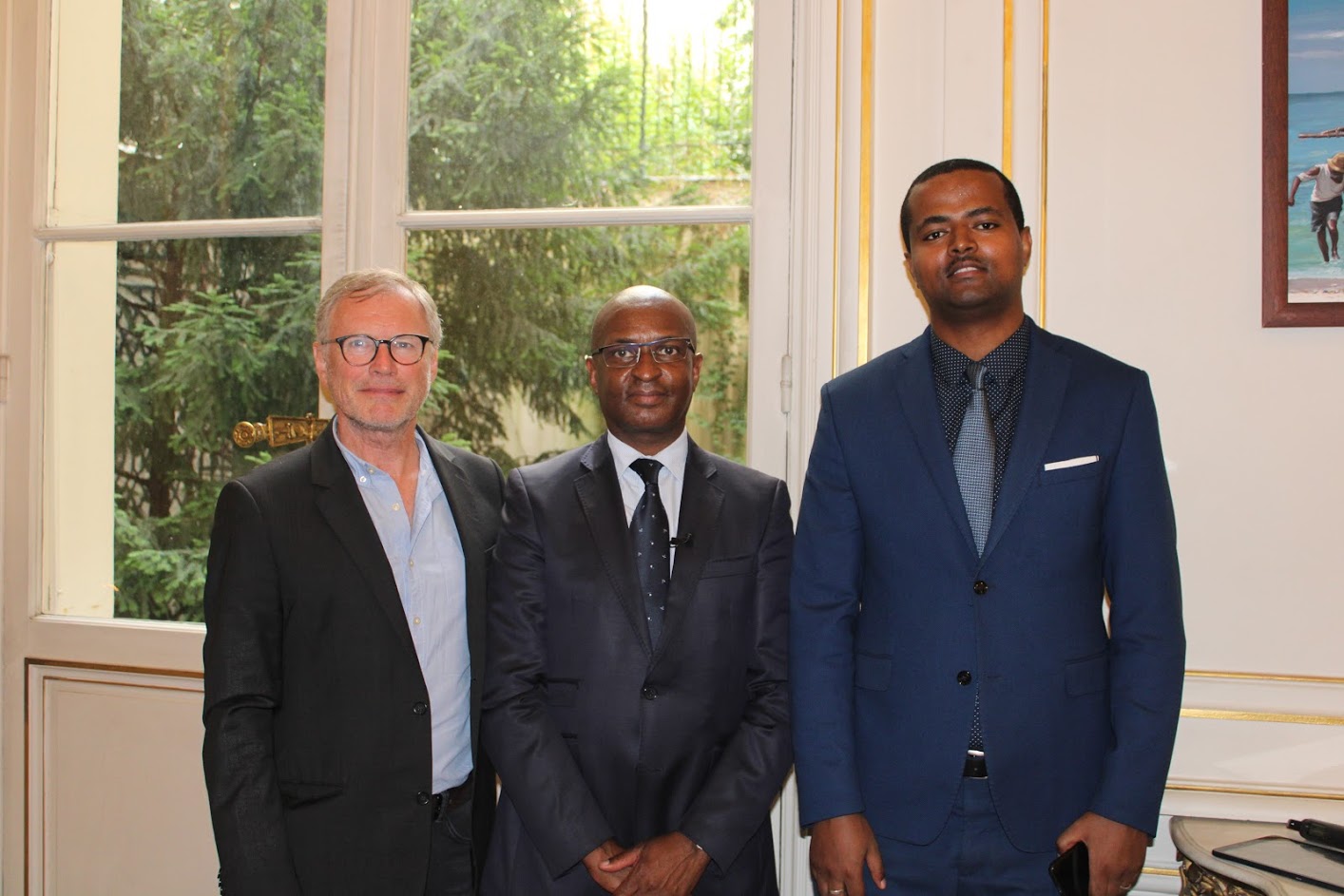 02/07/20 – Tanzania
Bush Garden Party 
Tanzania has reopened its doors!

First of all, thank you all for coming at our 3-day event at the Tanzania Embassy in Paris.

This period has been really hard from a touristic and human point of view. Hence we were very glad to see you after all this time and to announce you the conditions for the reopening of this destination.

We are now back on tracks and ready to go on a safari in the bush!
10/06/20 – Tanzania
Webinar Tanzania
From climbing Kilimanjaro, the roof of Africa, to relaxing on the idyllic beaches of Zanzibar and its legendary fauna of its millenary parks, We will present you this Unique destination and the measures taken by Tanganyika expeditions together with Tanzania Tourism Board, to ensure that the resumption of our activities takes place safely! 
20/05/20 – ICC Jerusalem
Interview Mira Altman
The ICC which hosted some of the most meaningful events in the past decades is launching a virtual congress center.
From digitalization to space adaptability, the CEO, Mira Altman answered live on TV interview. 
ICC's digital platform offers a friendly solution for managing congresses, trade shows, and business functions.
28/05/20 – Zaragoza Congresos
Webinar Zaragoza
We would like to introduce you to an extraordinary city that will make your MICE clients' event unforgettable.
We will present to you the measures taken by Zaragoza Congresos  to ensure that the resumption of our activities takes place safely! 
18/05/20 – Tanzania Tourism Board
Coming Soon to you
We are all working remotely and let's stay UNITED  ! 

First of all Thanks for supporting our Destination.
Our world has become smaller and  all the industry cancelled plans and events! But we do not forget you ! We actually have never felt so connected to the world. 
We are taking this time as a renewal to provide you the best services in our Wonderful Tanzania. 
We are supposed to come and see you in your City before the end of 2020.
12/05/20 – Turkey
Turkey launch a Tourism Certification Program
"Healthy Tourism"
The Ministry of Culture and Tourism of the Republic of Turkey has launched a Tourism Certification Program covering a wide range of measures to be taken in transport, accommodation, for employees of the establishments and travellers.

The certificate, which will be issued by international certification institutions, will attest to the fulfilment of a high level of health and hygiene requirements in airlines, airports, transport and other accommodation and catering establishments.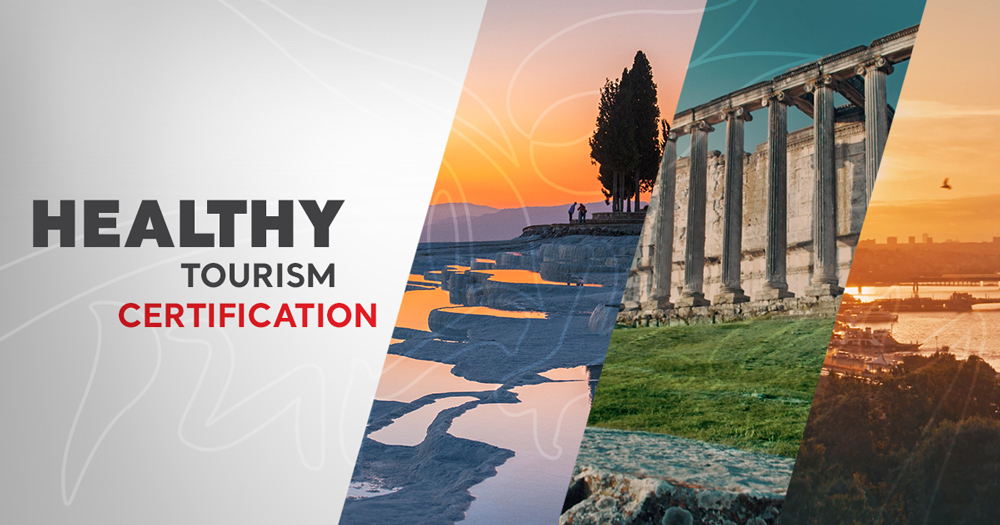 10/04/20 – Axium by Parker
Chilling and Planning
Take advantage of this time to regenerate your business ideas. Your agency Axium by Parker is there to assist you in all current and future actions.

In order not to be overwhelmed by the restart, it's now that you need to plan!